Let's face it, we are all on our phones 24/7. Sorry to call you out like that, it's sad but true. Well, maybe it's not that bad, because the technologies are getting smarter and comfier daily. To be fair, I think that we should embrace the new era of everything mobile, and it's high time to discuss the mobile development trends of 2022.
Metaverse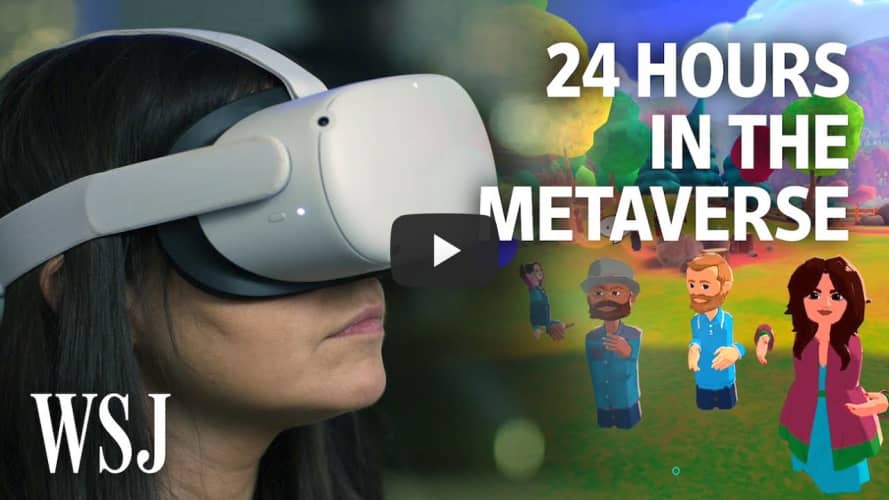 Metaverse has been on basically everybody's tongue for over a month. If you are still unsure what is Metaverse, it's a virtual reality space where you can create your own avatar and interact with other users. Soft of VRChat, but with a lot of commercial things. Still, it might be very confusing. A good idea would be to check out a video by Wall Street Journal. Not only does it explains what Metaverse is in detail, but it also shows you what a whole day in VR looks like. There is a possibility that Meta will be the future of gaming, shopping, and even interacting with our friends and people all over the world. It has all the potential to change society as we know it. However, there are still not so many people who own a VR headset. I don't see it either as a necessary thing at this point. It's like a 4K monitor, these are at least a few years until they become a standard.
Blockchain
Ah, cryptocurrencies, NFTs, and other things blockchain. They all can bring a lot to the table of mobile developers thanks to open-source model. The most obvious benefit of blockchain is higher net profit to masterminds behind these products avoiding middlemen in the process. However, it is very unlikely that the giants like Apple and Google allow in-app payments with cryptocurrencies, as it will shift the balance, not in their favor. The change may be years if not decades away, and time will tell whether the big companies embrace the change or not.
On-Demand Apps
Being one of the most successful business models of 2021, on-demand apps are sure to be growing in 2022 and coming years. COVID-19 was one of the most influential factors for it to have a sudden spike in growth. Even when we are out of this crisis, people will remain too hooked up on the easy-to-use apps and quick services that were hard to access just a few years ago. What are the most popular niches in the category? Food deliveries, contactless payments, buying online, healthcare, educational platforms. If you are looking to enter this market, the options are endless.
Wearables
Wearable devices have become a staple in our smart devices arsenal. Watches and bands are the most prominent examples: Apple and Samsung are the undeniable leaders with their devices being almost the only competitors in the industry. With COVID still going, the demand for quick oxygen level checks has not decreased. People have become more aware of their health in general, so carrying a small device that can provide a lot of stats quickly is something that we all think is a good idea, and it's becoming a necessity of sorts.
iOS & Android
There's still no competition between these two, and we won't likely see any shortly. Both iOS and Android are constantly duelling each other with new updates and features. Here are some notable things to look forward to in 2022:
Swift and SwiftUI
Being one of the most powerful programming languages for iOS, Swift is evolving to what might become also the most popular. New projects are often written in SwiftUI – a framework for Swift. It has seen a big number of updates in 2021, and this year might bring even more potential to it.
Kotlin Multiplatform
Kotlin has released a multiplatform solution. Now, you can compile your existing code from any app that you have developed in Kotlin and run it in an iOS environment. It's a good thing that another competitor in this arena has appeared, React Native could use a good shake-up.
Ultra-Wide Band
UWB is not a new technology. It was made to compete with Wi-Fi but has only seen luck in medical and military equipment... Until now. You all know Apple AirTag, a thing that makes finding your things easier. It works on this technology, which is reliable, accurate, and uses barely any power. Google added UWB API to Android in early 2021, but there are not many devices that use it. However, there is much potential to that tech, and it's a good thing to include it in the OS early on. The possibilities are limitless, but the most notable use cases are smart homes: locks, garage doors, things that usually require some sort of interaction. Imagine just walking up to your door and it automatically opens, or your car starting the engine before you even buckle your seatbelt.
Biometric Authentification
FaceID, Fingerprint Scanners, these things have become something we don't even notice, but use a lot. There is more to Biometrics than just these two, and we have tapped into this industry in our collaboration with Kyiv Metro: it will allow passengers to use the station's cameras to seamlessly pay the fare with a quick face scan.
Summary
There are a lot of things going on in the mobile category, and with mobile traffic being on the rise along with people shifting more to their phones in general, it certainly has the potential to be our future. We are witnessing the new dawn, and with almost every little thing in our life now tied with our phones, there are still more to come and look forward to. Be sure to look out for more trends in 2022, because there's more to it than could be ever written!