In 2023, Apple's App Store hosted more than 1.8 million apps, while Google Play had over 3.7 million Android apps, according to data from BankMyCell. Just like Google Play, the App Store has its specific guidelines and algorithms for determining how apps are ranked. To achieve a high position in the App Store's organic rankings, it's crucial to understand and implement App Store Optimization (ASO), which encompasses the fundamental strategies for enhancing your app's visibility and performance.
What is App Store Optimization (ASO)?
App Store optimization (ASO) is the ongoing process of improving the ranking and visibility of an app in an App Store. ASO can be compared with SEO - search engine optimization in Google. The goals of both are the same, only the platforms are different. So if you have an application that needs to be promoted not only in social networks or influencer marketing, then ASO is what you should do first.
How App Store Optimization Operates?
Everything from the name of your app to how often you make relevant updates matters in app optimization. There are two options for promotion in the App Store:
Paid advertising, where the main indicator is cost-per-install (CPI). This is an effective method for promotion. However, it requires investment and gives only a short-term effect that works only during advertising campaigns
ASO optimization, where the main indicator is organic downloads. For example, a person types "translator" and immediately sees the most relevant applications.
ASO works by optimizing various elements of your app's listing and using strategies to boost its rankings in search results and category rankings. Here's how ASO works and the key factors that influence your app's ranking:
A concise and keyword-rich title can significantly improve discoverability. Titles and app names can only be 30 characters long or fewer.
Apple's App Store doesn't appear to use it for ranking purposes, but it can further influence users to install your app after discovering it in search results.
ASO begins with careful research and selection of relevant keywords related to your app's content, features, and target audience. These keywords are strategically placed in your app's metadata, including the title, subtitle, keyword field, and description.
Usage and Uninstall Metrics
Higher engagement and lower uninstall rates often correlate with better rankings, as they indicate that users find your app valuable and enjoyable to use.
Positive reviews can boost your app's credibility and encourage more downloads, while negative reviews can have the opposite effect. Monitoring and responding to user feedback is essential for maintaining a positive reputation.
Backlinks in Google from other websites
External factors, such as backlinks from reputable websites to your app's landing page or website, can indirectly influence your app's visibility.
Before a potential user decides to download your app, they often conduct thorough research to gather information and assess its credibility. This research might entail searching for your app on Google to uncover reviews, ratings, and user feedback. Alternatively, they may discover your app through articles such as 'Top 10 Fitness Apps' if your app falls within that category. These external sources play a critical role in shaping the user's perception of your app and can significantly influence their decision to install it.
To provide you with a clear understanding of what is permissible and what is not, we have created a table for your reference.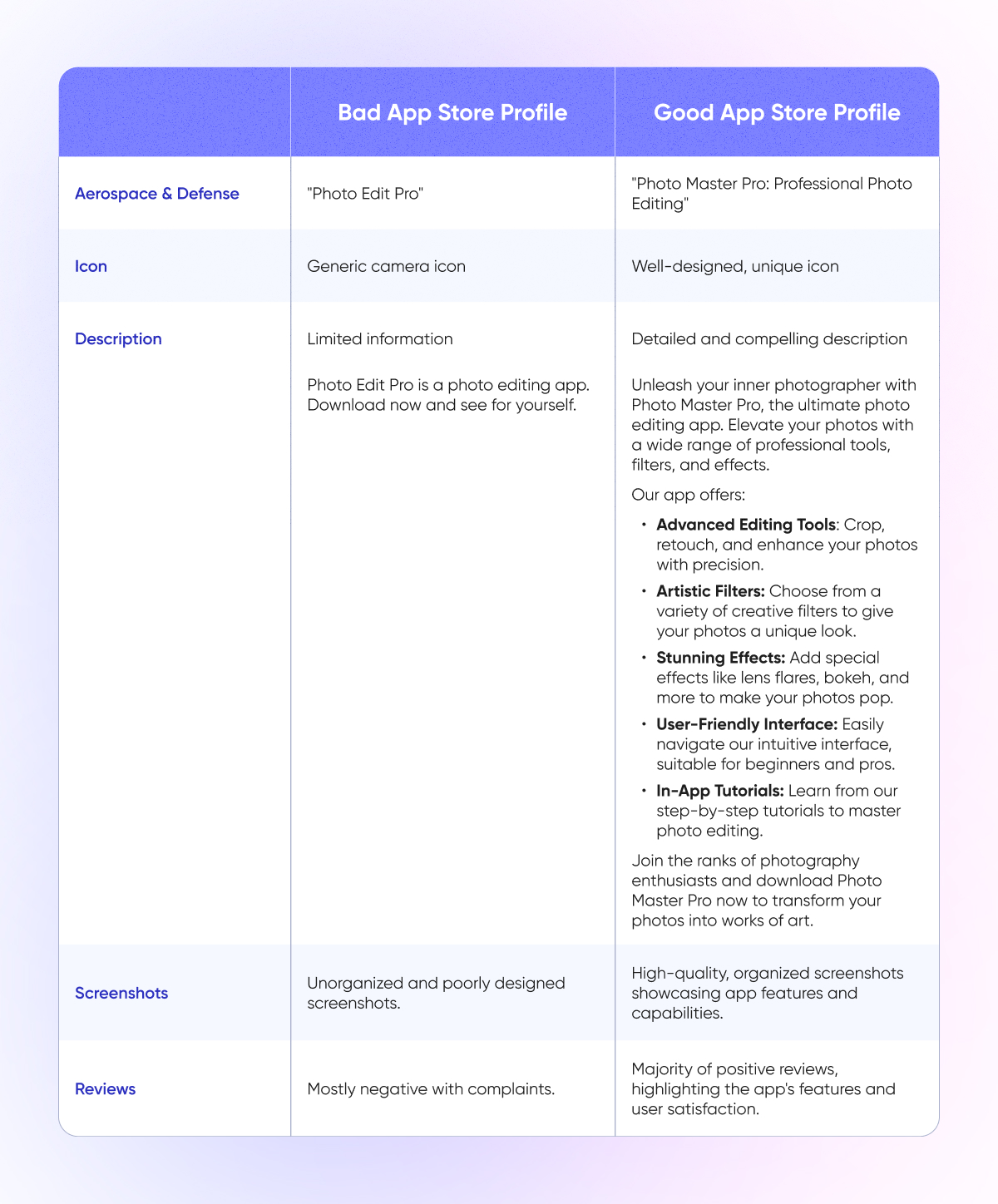 The Significance of ASO Systems for App Developers
ASO systems encompass various methods for optimizing an app's listing to improve its rankings in search results, increase organic downloads, and attract more users. For app owners, implementing effective App Store Optimization strategy is paramount.
Increased Downloads: When your app appears higher in search results and rankings, it attracts a larger audience, resulting in increased download rates which can lead to profit.
Cost-Effective Marketing: ASO is a cost-effective approach to app marketing. It doesn't require a significant advertising budget, making it an attractive option for both established and new app owners. While optimization yields results over a longer period, as opposed to the quicker outcomes from paid advertising, the benefits are more enduring and sustainable.
User Retention: Positive user experiences are vital for app success. ASO helps you attract users who are more likely to engage with your app's content and stay engaged over time, ultimately reducing churn rates.
Global Reach: ASO allows you to expand your app's reach to a global audience. By optimizing for multiple languages and markets, you can tap into new user bases around the world.
What to look for in ASO tools?
In the realm of ASO, two paramount pillars are keyword optimization and competitor analysis.
Keyword optimization stands as the foundational element in any ASO strategy. This encompasses a wide spectrum, including the integration of localized keywords, in-depth keyword intelligence, and regional analytics. These elements together form the bedrock of successful ASO.
Following keyword optimization, the second critical facet is competitor analysis. By scrutinizing the keywords utilized by your competitors, benchmarking their strategies, and maintaining vigilant oversight over their activities, you gain invaluable insights into how to position and optimize your app effectively. In essence, ASO should be meticulously constructed upon these twin pillars—keyword optimization and competitor analysis.
Best ASO Tools In 2023
App developers and owners rely on a range of powerful ASO tools. These tools serve as invaluable allies, providing insights, analytics, and optimization capabilities that can make all the difference in an app's journey to prominence. A proficient ASO tool empowers you to monitor critical metrics and key performance indicators (KPIs) such as conversion rate or demographics. Let's take a look at the best ASO tools!
App Radar
App Radar offers a range of features and services, including keyword tracking, competitor analysis, app store listing optimization, and campaign management. With its user-friendly interface and powerful data-driven insights, it simplifies the process of ASO and mobile app marketing.
Features
API
ASO Reporting
Activity Dashboard
Competitive Analysis
Engagement Tracking
Keyword Rank Tracking
Pricing
App Radar offers a Starter Plan with a starting price of $69 per month. This plan allows small app owners to manage up to a maximum of 5 apps. It's a suitable option for those looking to improve the visibility and performance of a limited number of mobile applications.
Additionally, App Radar provides a free trial period that typically spans 7 days.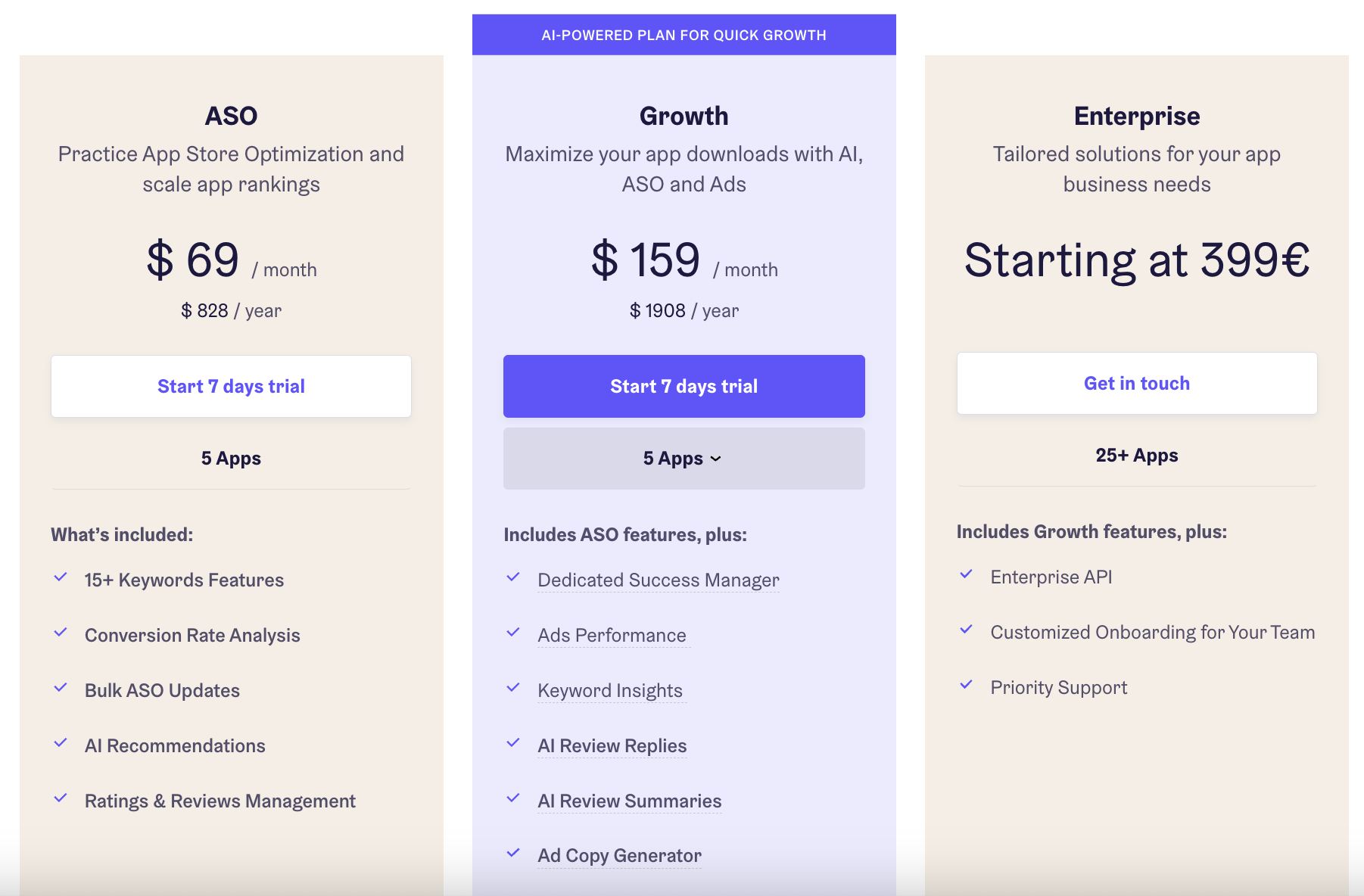 Reviews
4.4 out of 5 according to g2.
Sensor Tower
The platform offers a wide range of services, including app store optimization (ASO), competitive intelligence, app analytics, and advertising analytics. Sensor Tower equips its users with data-driven insights to make informed decisions, enhance app visibility, and boost user acquisition and retention. It's a comprehensive solution for those seeking to excel in the highly competitive world of mobile apps.
Features
Ad intelligence to streamline campaigns with network and creative data
App intelligence to build mobile growth with key competitive analysis
App teardown to dive deep into mobile app, cutting edge technologies
Consumer intelligence to analyze granular, true-to-life mobile usage data
Store intelligence to generate deep insights with accurate app store data
Usage intelligence to map industry-based spend across digital ad channels
Integrations & API to improve the way your application talks
Game intelligence to drill down into mobile gaming strategies
Pricing
Sensor Tower offers a starting price of $79 per month. This plan typically allows users to manage up to 5 apps. Additionally, Sensor Tower often provides a free 14-day trial period.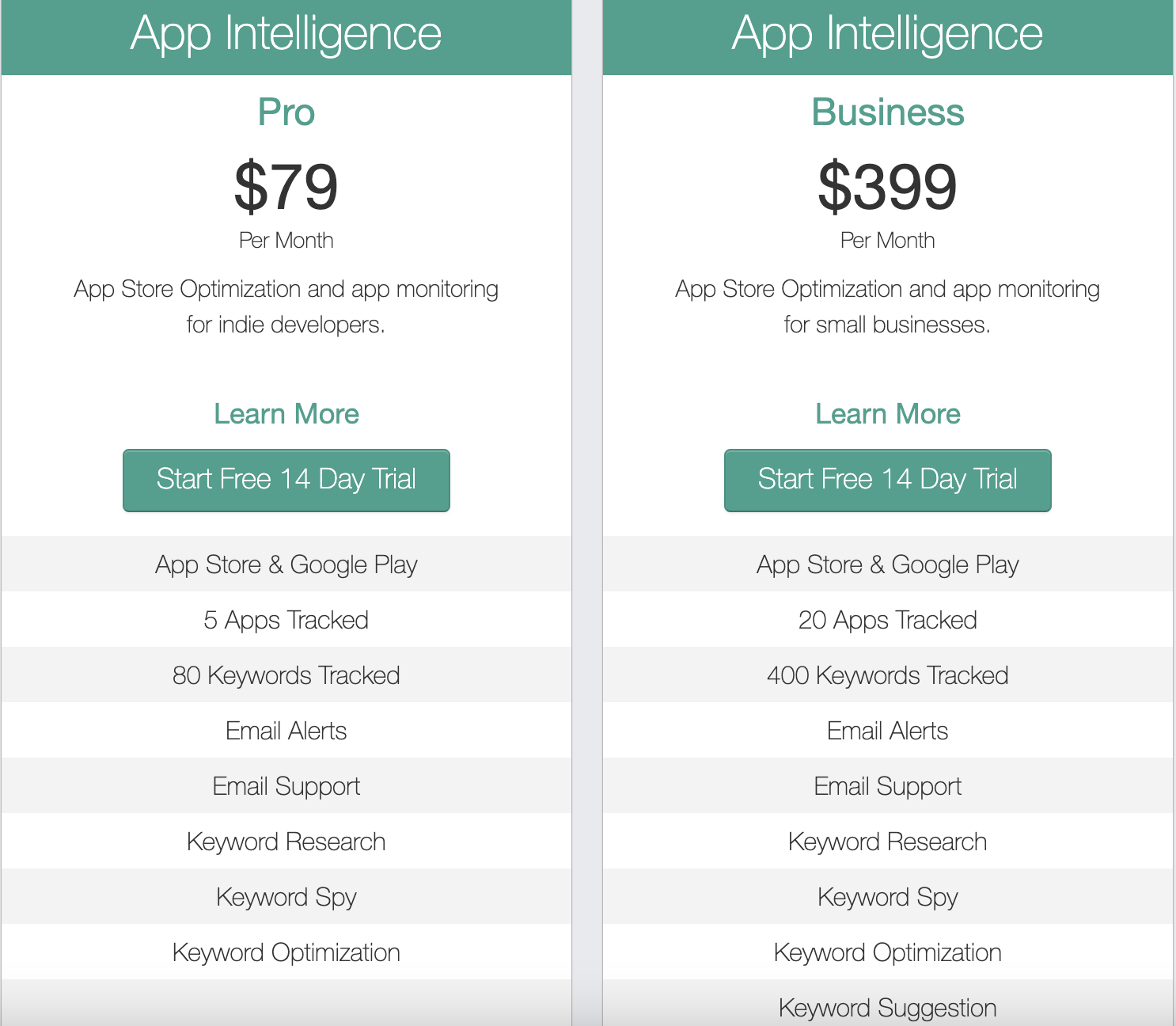 Reviews
4.4 out of 5 according to g2.
AppTweak
The plattform offers a range of tools and features for keyword research, competitor analysis, app store analytics, ASO recommendations, keyword tracking, and review analysis, making it a valuable resource for optimizing app store listings and achieving success in the competitive app market.
Features
ASO Intelligence
Ad Intelligence
App Intelligence
Market Intelligence
Keyword Localization
Organic Keyword Protection
Store Performance
Pricing
AppTweak offers a starting price of $83 per month, which includes support for up to four apps. Additionally, they provide a 7-day free trial for users to explore and experience their ASO platform before committing to a paid subscription.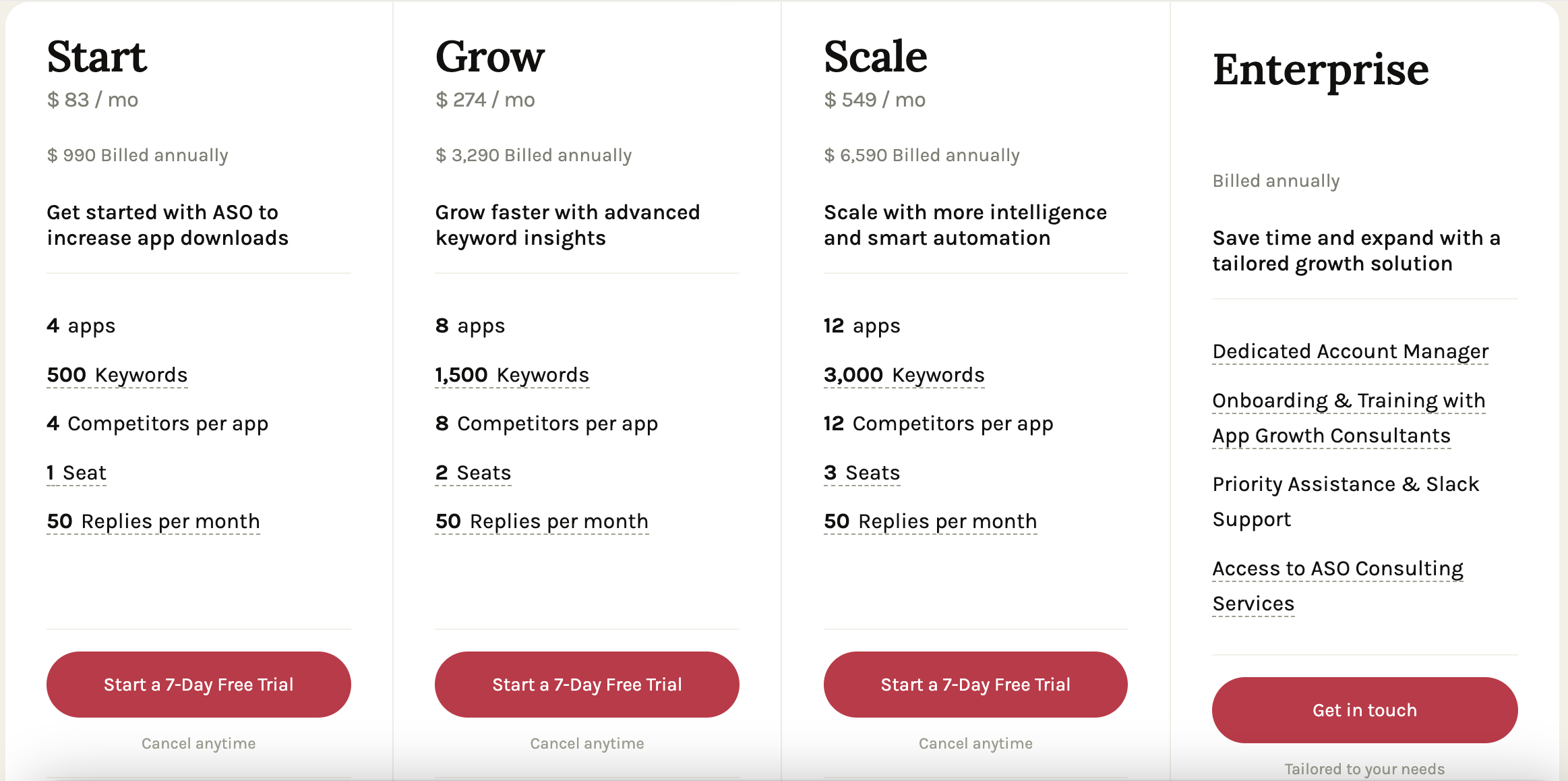 Reviews
4.6 out of 5 according to g2.
MobileAction
The plattform offers features like keyword research, competitor analysis, app analytics, and ASO recommendations. MobileAction is widely used in the app industry to boost app store rankings and user engagement.
Features
Keyword Optimization
Creative Asset Hub
ASO Report
Visibility Report
App Update Timeline
Search Ads Intelligence
Pricing
MobileAction offers a free version with limitations, allowing users access to 100 keywords, monitoring of 10 apps, and tracking 10 competitors. Additionally, they provide a premium version with advanced features, but the pricing details for the premium version can be obtained by scheduling a demo or a call with the company.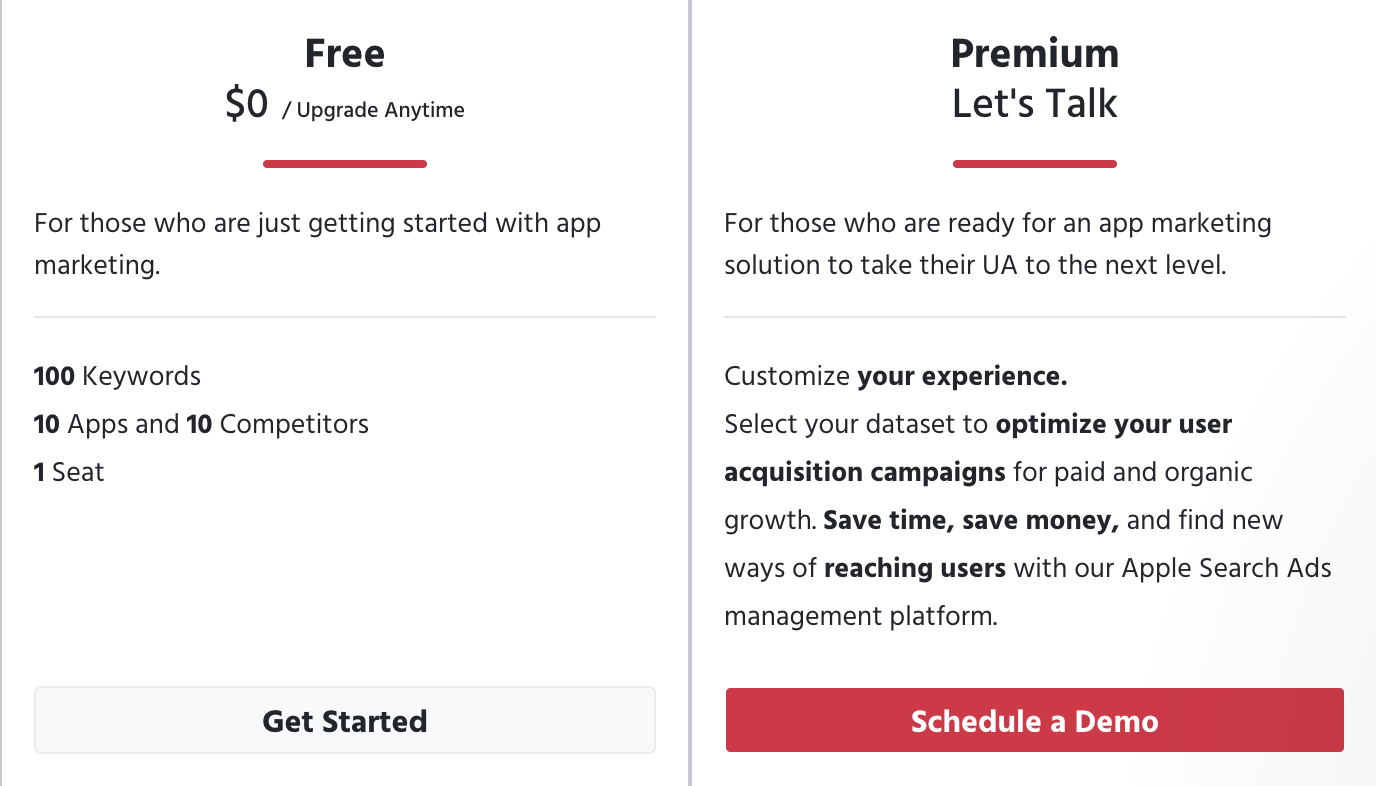 Reviews
4.2 out of 5 according to g2.
AppFollow
The plattform offers tools for app store optimization (ASO), app analytics, and review management, allowing users to track and improve their app's performance, monitor user reviews, and enhance overall visibility in app stores.
Features
API
ASO Reporting
Benchmarking
Channel Management
Communication Management
Competitor Monitoring
Pricing
AppFollow provides a free version that includes 100 replies per month, access to 1000 keywords, support for 2 apps, and up to 5 users. Moreover, for the Essential and Team plans, users can initiate a 10-day free trial to test the additional features and capabilities before committing to a paid subscription.

Reviews
4.6 out of 5 according to g2.
Asodesk
Asodesk is a platform for app store optimization (ASO) and marketing, offering tools and insights to help app developers and marketers improve app visibility, increase downloads, and analyze app performance. It provides features like keyword research, competitor analysis, and review management, aiding in optimizing app store listings and enhancing app market success.
Features
Real-Time Insights
Keyword Tools
Reports and Dashboards
Pricing
Asodesk provides a 14-day free trial for users to explore its services. The minimum pricing plan starts at $59 per month and includes access to features such as 1,000 keywords, tracking for up to 5 apps, monitoring 500 competitors' apps, collaboration with 3 teammates, 2,000 daily keyword statistics, 3 keyword tabs, 100 API credits, and 100 replies per month. This plan offers essential tools for app store optimization and performance analysis at an affordable price.

Reviews
4.6 out of 5 according to g2.
Appfigures
Appfigures is a comprehensive app analytics and intelligence platform that assists app developers, publishers, and marketers in tracking app performance, app store optimization, and market insights. It offers various tools and features to improve app visibility, measure downloads, and optimize revenue generation, making it a valuable resource for mobile app professionals.
Global ranks, ratings, and featured tracking
Ad revenue & spend analytics
Smart keyword suggestions
Reply Templates
Pricing
Appfigures offers subscription plans starting from $9.99 per month for monthly payment options. Additionally, users can initiate a free trial to explore the platform's features and capabilities before committing to a paid subscription.

Reviews
4.5 out of 5 according to g2.
Conclusion
ASO goes beyond mere keyword and description adjustments. It's a holistic approach centered on two critical foundations: keyword optimization and competitor analysis. Enhancing your app's listing is vital, but closely monitoring your competitors offers valuable insights for effective positioning.
The tools we've discussed in this article provide a rich array of features crafted to assist app developers and owners in navigating the intricate realm of ASO. These tools give you the ability to oversee essential metrics, fine-tune your tactics, and elevate your app's prominence in the bustling app store environment.